-----Original Message----- 
From: terry
Sent: Monday, August 01, 2016 7:17 PM
To: phaedrus@hungrybrowser.com
Subject: Dessert recipe from The Country Place

Good evening,

I am hoping you can track down a recipe for me. There was a restaurant in 
Atlanta! Georgia called The Country Place located in Colony Square. It was a 
restaurant owned by the Pheasant group. They had a dessert called Mile High 
Pie. It was an ice cream pie  to die for. I have been trying to track down 
this recipe ever since the restaurant closed. If you can find it, you are 
truly a miracle maker.

Thank you,

Terry

Hi Terry,
I found "Mile High Pie" mentioned in a couple of restaurant reviews of "The Country Place", but I did not find any recipes. "Mile High Pie" actually originated at the Pontchartrain Hotel in New Orleans, Louisiana, and I did find their recipe (with a photo): Mile High Pie
It's possible that The Country Place modified the recipe a bit, but I have no way of knowing whether or in what manner they did so.
Phaed

From: Debra 
Sent: Saturday, October 29, 2016 3:54 PM
To: phaedrus@hungrybrowser.com 
Subject: Mile High Pie front m the Country Place

I loved this dessert and I have also wanted the recipe. What I remember about the layers for ice cream: chocolate, vanilla and coffee. 
There whipped cream was lightly flavored with coffee and between the ice cream layers a chocolate cookie crust on the bottom (I think), 
a thin layer of chocolate fudge and there was maple favored something. That might have been the drizzle sauce. Best I can remember. 
I'll ask other family members as this restaurant was the "go to place" when we were visiting Atlanta. 

Debbie

Hi Debbie,
If you find the country Place recipe, please send it to me. If not, try the Pontchartrain Hotel recipe Ė itís actually the original recipe.
Phaed
---

From: Gretchen 
Sent: Wednesday, August 03, 2016 5:38 PM
To: phaedrus@hungrybrowser.com 
Subject: Bakers Square Honey Mustard Dressing

Looking for the recipe that Bakers Square uses in their restaurants. I have been told it is made by "Authentic Creations"  
If I can't have the recipe I would be more than happy to be able to buy it.  Just want to eat it!!! Thanks in advance.  
Gretchen

Hi Gretchen,
There are multiple requests on the web for this recipe, but no one appears to have had any success. I could not find even a copycat.
The only active ďAuthentic CreationsĒ business that I could find is not a food company, but a catalog order business. They certainly donít make dressings. The food product trademark for the name ďAuthentic CreationsĒ is owned by Kraft, but the brand does not appear to be in current use by anyone.
I found this on a message board at Answers.Yahoo.Com The best answer to your question is to buy the honey mustard from Sysco foods. They have a retail store in saint cloud mn. Bakers square honey mustard is a Sysco foods product. Or call your local bakers square and see if they will order a jar for you :)
I agree with that person. Your best bet is to call or visit your local Bakerís Square and ask them if they will sell you a jar of the dressing or order a jar for you. If they wonít do that, at least ask them to verify from whom they buy it.
Finally, you might contact Sysco Foods and ask them if they make it and whether they will sell you a jar. Sysco is a food service company, so itís not a brand youíll find in your supermarket. However, the above post says that they have a retail store in St. Cloud, Minnesota. Try there.
Iíll post this for reader input.
Phaed

From: Shane 
Sent: Tuesday, March 14, 2017 5:21 PM
To: phaedrus@hungrybrowser.com 
Subject: Bakers Square Honey Mustard

I just got off the phone with the Sysco store in St. Cloud, MN and called a local Bakers Square as well.  
From my research, "Authentic Creations" is a private label trade marked brand for Kraft Foods and they 
sell Sysco Foods the product to sell to B.S.  The part # on the Honey mustard is 6569818.  I also confirmed 
that with a "Village Inn" restaurant in Fargo, ND which is a sister restaurant to Bakers Square in Minnesota.  
When I called the retail Sysco store in St. Cloud that number was not in their system nor could they order it.  
The village inn in Fargo told me they would sell me a gallon of it.  I'm trying to replicate the recipe at 
home and am very close.  This is very close but not quite right. It really tastes like Applebees honey mustard 
which is also very good.  My first tweak on this one is to cut the vinegar in half next time I make it.

1/4 cup mayonnaise. 
1/4 cup Dijon Mustard. 
1/4 cup honey. 
1 tablespoon yellow mustard. 
1 tablespoon white vinegar. 
1/8 teaspoon paprika.

My next recipe to try and tweak is this one which LOOKS very close to what we like:

Applebee's Honey Mustard Dressing

Take Care,
Shane
============================================================================================================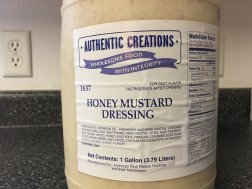 From: "Shane" 
To: phaedrus@hungrybrowser.com
Subject: B.S. Honey Mustard
Date: Friday, March 17, 2017 6:37 PM

Just bought this today at The Village Inn in Fargo, ND.  Cost $16.00. Worth every penny. 
Thought you might want to pass the pictures around. There was only one label on it.

Shane

---

From: Roberto 
Sent: Wednesday, August 03, 2016 3:42 PM
To: phaedrus@hungrybrowser.com 
Subject: Hudson Beer Garden fish

Dear phaedrus,
Bob  must be mistaken. I and my parents went every Friday to Hudson Beer Garden and I never saw a pizza there.  
Every Friday we always ordered their fish which was breaded and so delizioso, I would like to know what kind of 
filet they used. Also, on Fridays they gave away a bowl of mussels in tomato sauce with a slice of Italian bread. 
other days when we went or did take out of tripe, which I would like that recipe, and the sausage parmagiano was 
delicious. 

Roberto 

Hello Roberto,
Well, there is a comment here on Trip Advisor whose writer says We used to go to Hudson's Beer Garden many years ago for, among other things, pizza..., so perhaps Bob isnít mistaken after all.: TripAdvisor
I had no success at all finding any recipes at all from Hudson Beer Gardens and not even a mention of their fish, mussels, tripe, or sausage parmegiano. There is a blog here with a mention of a veal dish served there: Macks Truck of Wisdom
Iíll post this for reader input.
Phaed
---