From: Ernie Z 
Sent: Saturday, February 04, 2012 8:52 AM
To: phaedrus@hungrybrowser.com 
Subject: resin pot
 
We recently acquired our now deceased uncle`s old resin pot filled with slightly used resin. 
Other than the time taken to heat the resin (too long for us,) the potatoes are out of this world.
We would be interested in selling the pot/resin if you think there would be buyers interested.
If you have a minute, please let us know.

Ernie & Jean in Tampa.

Phaed,

Attached are 4 photos of the 'resin pot' mentioned in this email. The pot is very old steel, 
loop handle, measure 9" in diameter and is 6.5" deep. 
It is currently 3/4 filled w/ original/old resin.

Regards,

Ernie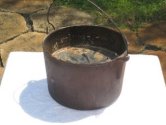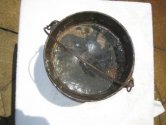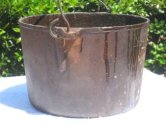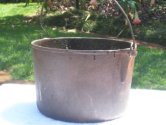 ---

From: Ed 
Sent: Saturday, April 21, 2012 7:24 PM
To: phaedrus@hungrybrowser.com 
Subject: Recipe

Looking for an old recipe 'mitton' named for an18th - 19th century Englishman. 

Ed 

Hello Ed,
Perhaps you mean "mitton of pork". See these sites for recipes:
Phaed
---

From: Holly 
Sent: Friday, April 20, 2012 2:12 PM
To: phaedrus@hungrybrowser.com 
Subject: chocolate cake called "Wacky Cake"

My mother used to make this when I was a child. I remember you mixed it part of the way 
with cocoa and water then at some point you poked holes in the batter while in the pan 
and then put vinegar (?) in it. I think. It was just the  most delicious cake; so moist 
and dense. I have never found the recipe again.

Holly 

Hello Holly,
I found a recipe like that. See below.
Phaed

Wacky Cake

Ingredients

3 cups all-purpose flour
2 cups white sugar
1/2 cup baking cocoa
2 teaspoons baking soda
1 teaspoon salt
2 teaspoons vanilla
2 Tablespoons vinegar
3/4 cup Oil
2 cups water
Preparation

Mix flour, sugar, cocoa, baking soda and salt in a 9x13 pan.
Make three holes in the flour mixture.
In one put vanilla; in another the vinegar, and in the third the oil.
Pour water over all and stir well.
Bake at 350 degrees F until it springs back to the touch or a toothpick 
inserted near the center comes out clean - about 25 minutes. 

Icing 

1 stick margarine
1 teaspoon vanilla
1/4 cup milk
powdered sugar 

Melt margarine and add vanilla and milk. Add powdered sugar until desired 
consistency - thin but spreadable. 
It thickens as it cools.

---

From: MaryAnn
Sent: Saturday, April 21, 2012 10:59 PM
To: phaedrus@hungrybrowser.com 
Subject: DIY-Chocolate Alba Drink Mix

I saw where you can buy Alba on your site; but Phaedrus, there is a recipe 
for Homemade Chocolate Alba Drink Mix.  
I can't find it anywhere on the Internet, but I bet you can!

Hello Maryann,
I found a recipe for a homemade version on a message board. See below.
Phaed

Vanilla Alba Homemade 
Serving Size : 1 

1/4 cup nonfat dry milk powder 
2 tablespoons Splenda 
1 teaspoon vanilla extract** (you would add this when you add other liquid ingredients to recipe) 

Per Serving (excluding unknown items): 61 Calories; trace Fat (1.8% 
calories from fat); 6g Protein; 9g Carbohydrate; 0g Dietary Fiber; 3mg 
Cholesterol; 93mg Sodium. Exchanges: 1/2 Non-Fat Milk. 

Chocolate Alba 

1/4 cup nonfat dry milk powder 
3 Tbsp. Splenda 
1 tsp. unsweetened cocoa 

Strawberry Alba 

1/4 cup nonfat dry milk powder 
2 Tbsp. Splenda 
1 tsp. strawberry extract (sold in the supermarkets) 
3-4 drops red food coloring when adding liquid 


You would add the above to one cup of water or, for a richer drink, to one cup of milk.

---