-----Original Message----- 
From: Judy 
Sent: Saturday, February 25, 2017 10:02 PM
To: Phaedrus
Subject: Individual Tarte Tartin From Gourmet Magazine

Hello,

I've been trying to find the recipe for Individual Tarte Tartin from Goumet 
magazine from the 90's.  I don't remember the year exactly but it was made 
with golden delicious apples, puff pastry crust and brushed with apricot 
preserves after they came out of the oven.  I don't remember if there were 
any other ingredients or not in the recipe.  It was on the right hand page 
at the bottom of the page in the magazine.  It was a short recipe.  I cut 
the recipe out of the magazine and have lost it.

I was hoping you could locate it for me.  Thank you.

Judy 

Hi Judy,
I did not have any success with a recipe fitting your description that identified itself as being from Gourmet Magazine. There isn't an online database of Gourmet Magazine recipes that has the recipes printed in the magazine in the 90s.
The closest recipe that I found to your description is here: Food Network
While I do not have a collection of cooking magazines, some of my readers do. I will post this for their input.
Phaed

From: Janet
To: phaedrus@hungrybrowser.com
Subject: Re: Recipe request Feb. 25, 2017
Date: Saturday, June 24, 2017 8:43 AM

HI,
This looks like it may be the recipe requested.  No apricot glaze but that is a 
standard finish for French tarts.  The reader may have just added that step, 
as I would, to any tart recipe that does not have it.


Individual Tartes Tatin 
                            
Gourmet                                    February 1997                            
                        
Yield
Makes 2 individual tarts

Ingredients

1 Golden Delicious apple
1 frozen puff pastry sheet (from one 17 1/4-ounce package frozen puff pastry sheets), thawed
2 tablespoons unsalted butter
1/4 cup packed light brown sugar
2 tablespoons water

Accompaniment if desired: vanilla ice cream

Preparation

Preheat oven to 425°F.                                    
Peel apple, halve lengthwise, and core. Using a 1-cup ramekin (3 1/4 inches across and 
2 1/4 inches deep) as a guide, cut out 2 rounds from pastry sheet.                                    
In a 7-inch heavy skillet heat butter over moderate heat until foam subsides and stir in 
brown sugar and water. Add apple halves and cook, turning frequently, 3 minutes. 
In two 1-cup ramekins set on a baking sheet arrange apple halves, cored sides up, 
and top evenly with sauce.                                    
Top apples with pastry rounds, letting edges of pastry hang over sides of apples. 
Bake tarts in middle of oven for 20 minutes, or until pastry is puffed and golden brown, 
and cool on a rack 5 minutes. Working with 1 ramekin at a time, invert a plate over each 
ramekin and invert ramekin onto plate. Carefully lift off ramekins.                                    
Serve tarts with ice cream.                             

---

-----Original Message----- 
From: Pat 
Sent: Saturday, February 25, 2017 7:15 PM
To: phaedrus@hungrybrowser.com
Subject: Unusual Dough Press

Uncle Phaedrus,

     I have a baking equipment question that hopefully you can help
with, I have tried to find some information on this cookie dough press
with little results. It is a manual hand cranked piston type of dough
extruder, on the side is the the name "Arjax Molndal" and "Made in
Sweden", it is missing the end cap and die. It is possibly from the
1940's or 50's and was used in small bakeries to deposit a line of dough
on the bench. You can see how it is used in the you-tube video for
Echol's Pink Stripe Cookies, this is the only example I could find of
one being used. It is similar to an old style churro extruder. Any
information you can find would be greatly appreciated, I would love to
be able to find the missing parts to put it back into action.
Thank you, have browsed your sit for a long time and enjoy seeing the
"Lost" recipes from so great places.

I have attached a photo of the press to give you a better idea of how it
works.

Pat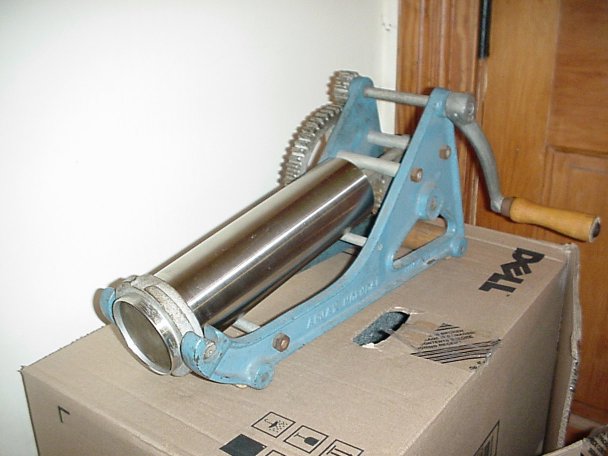 Hello Pat,
I had no success with this. I looked at dozens of cookie presses and dough extruders, but I cannot find one like it. As you say, it must have been intended for use at a small bakery. It is too large for ordinary home use, and it's smaller than the ones used by modern bakeries.
I had no success looking for cookie presses or dough extruders made in Sweden. I had no success looking for antique cookie presses or dough extruders like yours. As for "Arjax Mölndal", "Mölndal" is a city in Sweden, and "Arjax" is a business name, probably a family name.
I could not find a company by that name that makes or made baking equipment. The only business that I could find by that name is "Arjax Mekaniska Verkstad" or "Arjax Mechanical Workshop", which is located in Mölndal. It's advertised as a machine shop, not a bakery supply company.
I'll post this for reader input, but the only other suggestion that I have for you would be for you to contact that machine shop in Mölndal, Sweden. Perhaps they can tell you if they ever made such devices and whether they could supply parts. See this address and phone numbers:
Arjax Mechanical Workshop
Krokslätts Street 45 B
431 67 Mölndal
Västra Götaland County
031-18 66 57
031-20 95 84

and : Arjax Mechanical
Phaed
---

-----Original Message----- 
From: Wendy
Sent: Friday, February 24, 2017 3:03 PM
To: phaedrus@hungrybrowser.com
Subject: Woolworth's Old fashioned Birthday cakes

Hi, I still dream about Woolworth's plain, old fashioned white cake, white 
frosting birthday cakes. I've not been able to find a recipe or cake that 
even comes close to it. Any assistance you're able to provide is 
appreciated.
Thank you
Wendy

Hi Wendy,
Sorry, no success with this. It's apparently not on the Internet, and it's not in the partial Woolworth's Kitchen Manual that I have.
I'll post for reader input.
Phaed
---