From: Bill 
Date: Mon, 9 Feb 2009 6:50:05 -0800
To: phaedrus@hungrybrowser.com
Subject: traditional calbria sopressata recipe

phaedrus,

we have made this wonderful cured meat many of years but always needed
assistance from an old italian friend. his measurements were usually buy
the hand fulls, and  tough to follow. so we finally did it ourselves with
real weights and measures and produced what we feel is a fine italian
sausage. i was able to sit with a family from Calabria this year and
received years of knowledge in such a short time while helping them. so
what i'm asking you is if you have any interest in this recipe, because i
searched for weeks and found nothing and would hate for this tradition to
be lost. 

thanks for your time, bill

Bill,
I'd love to be able to put this recipe on the site. Send it on! Saving recipes like this from extinction is one of the goals of my site
Phaed

From: Bill
To: "phaedrus" 
Subject: sopressata recipe (calabria)
Date: Monday, February 16, 2009 6:24 PM

Phaed,

I sent the recipe on an excel file.(See Below) if you have any problems or questions let me know.
I'm not sure if it all makes sense. Keep me posted

Bill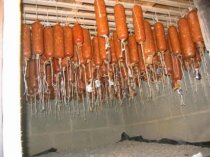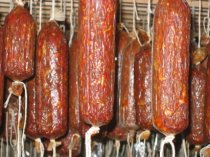 Sopressata - Calabria Style

this recipe is for 100 lb of pork butt (including bone and fat)

100 lb fresh pork butt 
15 - 1 quart jars of red pepper sauce (recipe below)
8 oz fennel seed
6 oz cracked pepper
1 oz red pepper flakes (if you like it hot add 3 oz more)
13 oz table salt
casing for stuffing (natural or fibrous)

Remove bone, dark blood spots, any veins and "some" fat from butts. we make ours a little lean 
and yield about 17 pounds of fat an bone for 100 pound of meat.
Grind meat. we use a 12 holed cutter  with 3/8 holes. Bigger is fine but do not go smaller
Add pepper sauce and spices and mix well, very well. when you think you're done mix for 
another half hour.  We lay ours out on a clean plastic table to mix more evenly. Put meat 
in a large plastic container covered with a towel and let stand for 3 days in temperatures 
no lower than 32 degrees and no higher than 45. Before stuffing, fry some of the meat to taste. 
It must taste extremely salty. If not add more salt and mix.
Start stuffing. we use the fibrous casing, some 2-1/2  and some 1-1/4 inch diameter. the 
smaller ones are ready to eat a little sooner. the 2-1/2 inch is 2 foot long an the 1-1/4 is 
30 inch long. we use a vertical stuffer made buy WESTON. It holds 11 lbs of meat. user friendly. 
cost around $250
Fill casing a little and poke with a needle to let air out, then continue filling with a tight 
hand on the stuffing tube to assure a solid and tight sausage, then tie. use cotton string, it 
seems to give a good tight knot.
We get 2 sausage from the 2-1/2 inch casing and 3 from the 1-1/4
After stuffing, poke sausage again with needle, maybe another 12 to 15 more times all over 
(look for air) 
Place stuffed sausage in the plastic container stacked on one another and cover with towel. 
Let sausage
stand for 5 days before hanging. again temps between 32 and 45 degrees. this will let some moisture 
out.You should get a few inches of water at the bottom of your container.
Hang sausage in a cool dry place leaving at least an inch between each. they can not touch. again 
it is very important to have temperatures between 32 and 45 degrees. It takes about 7 to 8 weeks to 
cure. We are in pennsylvania and find that making it in early february seems to give us the proper 
temperatures

Red Pepper Sauce

4 bushel of red bell peppers. ( yields about 18 - 20  one quart jars of sauce )
5 pounds of salt
20 - 1 quart canning jars with lids and seals

Make sure your peppers are a deep dark red.  cut in half and remove stems and any bad spots.
Fill a 20 qt pot with peppers and a gallon of hot water. cook on stove top on high heat until soft.
Strain and run peppers thru a tomato strainer to separate skins and seeds from sauce. run seeds 
and skin at least 8 more times thru strainer to get all of the sauce possible. the strainer we 
found to be best is the VELOX TOMATO STRAINER made in italy. It's manual and a little small but 
very efficient and easy clean up. cost around $40
You should end up with about 30 quarts of sauce. separate it into two sauce pots and bake in the 
oven at 400 degrees for 3.5 hours stirring occasionally. you should end up with about 20 qts
Add salt and cook for an additional half hour
Fill jars with sauce  ( hot from oven )  and seal for future use.
========================================================================
-----Original Message----- 
From: Raphael
Sent: Wednesday, September 06, 2017 8:56 PM
To: phaedrus@hungrybrowser.com
Subject: Red pepper paste for Soppressata.

Hey. I stumbled across your recipe online and 2 bushels only yielded me 
about 6 quarts of paste. Your thoughts? Please and thank u.

Hello Raphael,
Gosh, I have no idea. "Bill" sent me that recipe 8 years ago. I've never made it myself, nor have I ever gotten any feedback from anyone else who made it.
It seems simple that if, as he says, 4 bushels of peppers yields 18 quarts, then 2 bushels should yield 9 quarts, whereas with your yield of 6 quarts from 2 bushels would yield only 12 quarts from 4 bushels.
I note that Bill gives two yield figures in the recipe for red pepper sauce. In one place he says "4 bushel of red bell peppers ... yields about 18 - 20 one quart jars of sauce," but in another part of the recipe, he says to "Fill a 20 qt pot with peppers and a gallon of hot water." and "You should end up with about 30 quarts of sauce." It looks like something is not right in those measurements. I've had a couple of computer crashes since 2009, so I no longer have Bill's email address, or I'd ask him.
I will post this below the recipe to give a heads-up to anyone else who might try the recipe. Perhaps Bill will see this and send a corrected recipe.
Phaed

From: Raphael
To: phaedrus@hungrybrowser.com
Subject: Re: Red pepper paste for Soppressata.
Date: Thursday, September 07, 2017 11:48 AM

Thanks for the response. The recipe in salt content is way off! 100 lbs of meat should be  
about 2 1/2lbs of salt or 40 oz. Not 13oz. That is seriously dangerous and will kill someone. 
The whole recipe seems to be off. I thought I would inquire. I make Soppressata  Di Calabria 
except I use red pepper and/or cayenne not black pepper.  You blanch the peppers till soft 
then strain and cook....the time is correct 400 degrees for 4 hrs. I had 2 buschels of 3/4 lb 
peppers and only yielded me about 6 qts. 

Raphael

---

----- Original Message ----- 
From: "Bruce "
To: phaedrus@hungrybrowser.com
Sent: Sunday, February 15, 2009 8:49 PM
Subject: "Recipe" Request

> My name is Bruce.
>
> I stumbled upon your website while looking for the source of a quotation, 
> from Ian Flemming's Goldfinger. Your research on it was  great.
>
> I am hoping you can help me with one that has plagued me and my  brother 
> for several years. By way of background: He called me and  asked what 
> movie a particular line came from and he described the  scene. Either (1) 
> I remembered the scene and line, too, or (2) I am  susceptible to 
> suggestion. In any event, we have been unable to (1)  find it online, (2) 
> find it in any movies that we have re-watched, (3)  find any friends who 
> can help. Having stumbled upon your site, I refer  it to you ...
>
> The line is" Keep your g_d dam_d head down!"
>
> It was said by a woman pilot to the passengers in her airplane. The 
> airplane was an open-cockpit type, possibly a biplane. My inclination  is 
> that they were either being shot at or going through a flock of  birds or 
> something similar.
> My best recollection is that the woman was a little-old-lady type,  such 
> as Ruth Gordon.
>
> I really want to say it was Ruth Gordon, but I've looked through her 
> pictures on IMDB and found nothing.
> I really want to say the passenger was Billy Crystal (sp?), but I've 
> looked through his pictures on IMDB and found nothing.
>
> I've watched and re-watched Silver Streak, Its a Mad Mad World, Tora  Tora 
> Tora!, Throw Mama From The Train and it is not in any of them ...  though 
> it would not have been out of place. (We keep saying it must be  Silver 
> Streak and have watched it 4 times.)
>
> Thanks for any help.
> Bruce

Hello Bruce,
The only place that I can find "Keep your goddamn head down!" as a movie quote is by Telly Savalas as a crop duster pilot in "Capricorn One". This quote is listed on most of the movie quote sites and is the only instance of that phrase being listed.
Phaed
---

----- Original Message ----- 
From: Louis 
To: phaedrus@hungrybrowser.com 
Sent: Tuesday, February 17, 2009 4:35 PM
Subject: Smoked/fresh Slovenian sausage

Hi Uncle Phaedrus,

A few years ago you found and sent to me the recipe for Slovenian Zelodec . I have made them 
and they are just as good as my uncle used to make about 30 years ago .
Now , do you have a recipe for good old "Slovenian Sausage " Mostly Pork butt, garlic, 
salt etc . You can eat them fresh or smoke them .
Can you help???

Lou 

Hello Lou,
This product is known as "Kranjske klobase" and "Carniolan sausage" after the province in which it is made. There are recipes on these sites:
Phaed
---

  ----- Original Message ----- 
  From: Linda 
  To: phaedrus@hungrybrowser.com 
  Sent: Saturday, February 14, 2009 12:26 PM
  Subject: Curried Lamb Stew Recipe

Hi  I am looking for a recipe that my grandmother used to make when I was growing up. 
It was curried lamb stew and it was wonderful!  

Hello Linda,
Well, there are lots of recipes for curried lamb stew, and I've no way to know what recipe your grandmother used, but below are three.
Phaed

  Curried  Lamb  Stew

  4 tbsp. flour
  3 to 4 tbsp. Madras curry powder
  1 tsp. salt
  1/2 tsp. ground black pepper
  3 tbsp. oil
  1 1/2 lb. stewing lamb, cubed
  1 lg. Spanish onion, sliced
  1 1/2 c. water
  1 1/2 c. white wine
  1/2 c. raisins
  1 tbsp. lemon juice
  2 tart apples, sliced

In a shallow bowl, blend the flour, curry, salt and pepper.  Roll the lamb in the flour mixture. 
In a casserole dish heat the oil.  Brown the lamb; remove and keep warm.  Saute the onion until 
just tender.  Return the lamb to the casserole and sprinkle with any remaining flour mixture. 
Pour the liquids over the meat and stir to mix well.  Add the raisins, lemon juice and apples 
and cook, partially covered, until the meat is tender, about 1 1/2 hours.  Serve with rice, 
chutney and yogurt-cucumber salad. 
  ---------------------------------------------
  Curried Lamb Stew

  Ingredients: 
  2 pounds lean lamb stew meat, cut into 3/4-inch cubes
  4 teaspoons olive oil
  1 medium onion, chopped
  2 garlic cloves, minced
  1 tablespoon curry powder
  1 teaspoon salt
  1/4 teaspoon pepper
  1/8 teaspoon each ground coriander, cumin and cinnamon
  1/8 teaspoon cayenne pepper
  1/4 cup all-purpose flour
  1-1/4 cups water
  1 cup unsweetened pineapple juice
  1 medium tart apple, peeled and chopped
  1/4 cup tomato sauce
  1/2 cup sour cream
  Hot cooked noodles or rice, optional 

  Directions: 
In a Dutch oven, brown meat in oil in batches on all sides; remove from pan and keep warm. 
Cook onion and garlic in drippings until onion is tender. Add the curry, salt, pepper, coriander, 
cumin, cinnamon and cayenne; cook and stir for 2 minutes. Sprinkle with flour; cook and stir for 
2-3 minutes. Stir in the water, pineapple juice, apple and tomato sauce. 
Return meat to Dutch oven. Bring to boil. Reduce heat; cover and simmer for 1 hour or until 
meat is tender. Remove from the heat. Stir in sour cream. Serve with noodles or rice if desired. 
Yield: 6 servings. 
  -------------------------------------------------
  Curried Lamb Stew
  Serves 6 - 8 

  1/4 cup. vegetable or corn oil 
  2 cups sliced onions 
  3 Tbsp. Spice 'N Flavor Khorma Masala 
  1 Tbsp. finely chopped ginger or 1 tsp. ginger powder 
  1 Tbsp. minced garlic or 1 tsp. garlic powder 
  1/4 cup whole or halved cashews or almonds (soaked in water for 4 to 6 hrs.) 
  2 lbs. (900 gms.) cubed lamb or mutton 
  1/2 cup milk cream or plain yogurt or sour cream. 
  2 Tbsp. raisins 
  2 Tbsp. chopped coriander (cilantro) leaves (optional) 

  Directions: 

In a large pan or pot (non-stick is ideal) heat oil over moderate heat and fry 2 Tbsp. of 
cashew nuts or blanched almonds and set aside for garnishing. 

In the same hot oil saute onions, stirring, until golden brown, about 6 to 8 mins. With a 
slotted spoon squeeze out the oil from the onions and set aside; save the pan with the 
remaining oil. 

In a blender or food processor combine 3/4 of the fried onions with Spice 'N Flavor Khorma 
Masala, ginger, garlic, 1 tsp. of salt (or to taste), remaining cashew nuts or almonds and 
1/2 cup of water and blend to a smooth paste. 

Heat the pan with the oil, add the blended spice paste and saute, stirring, until liquid 
has evaporated, about 6 to 8 mins. 

Add lamb or mutton, saute, stirring for 5 mins. 

Add 1 cup water, bring to a boil, simmer, covered, 30 to 35 mins. or until the meat is tender. 

Add milk cream or yogurt (beaten well with a fork) or sour cream and simmer for 5 more minutes. 
Taste for salt. 

Transfer to a dish and garnish with coriander leaves, raisins, remaining fried onions and cashew 
nuts or almonds. 

Serve hot with rice (steamed or pilaf) or with Indian breads such as puri, nan or paratha, pita 
or any other bread, or with boiled yucca (cassava). 

Chef's Tip: 

This recipe may also be used to prepare 2 lbs. veal, beef, chicken, turkey, vegetables or 
tofu. Substitute cream, yogurt or sour cream with 1 cup of unsweetened coconut milk. 

For a spicier curry increase the amount of the masala (or add 1 or 2 chopped fresh green 
cayenne or serrano chilies) when adding spice paste to pan in step 4. 

Ingredients : (in powder form) Spices (including coriander seeds , chili pepper, black pepper, 
turmeric, cinnamon, cardamom, fennel seeds, cloves, ginger and cumin). 

---
People are always looking for new chicken recipes. Okay, I'm doing some looking outside the magazines and usual cookbooks.
Here's another one.

Spicy Angolan Chicken

Ingredients

3 1/2 lbs. chicken parts
2 tbsp. fresh lemon juice
1/4 cup peanut oil
1 finely chopped jalapeņo chile or 1/4 tsp. finely minced habanero chile.

Instructions

Preheat broiler. Wash the chicken parts and pat them dry. Put chicken
pieces in a broiling pan. Mix the lemon juice, peanut oil and chile
together. Brush mixture over the chicken. Place chicken under the 
broiler and cook until done, about 7-10 minutes on each side. 
Serve.

Adapted from African News Cookbook

In Angola this is called "Frango Grelhado Piri Piri". It's served with rice. 
Sounds like it would be good cooked on the grill, too.

---