---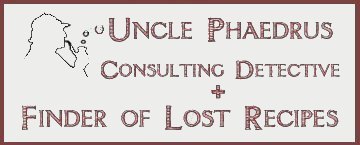 (Logo by phaedrus)
We find answers to questions and solutions to problems. Who? What? Where? When? Why? Which? How? Recipes, food, cooking, beverages, history, science, popular culture, geography, sociology, psychology, trivia, etc....
---
The answer IS out there!
(SOMEwhere...)
Food Trivia Recipes History Cooking Movies Beverages TV Science Health Literature Psychology Culture

Send your questions to:

Phaedrus
phaedrus@futuresouth.com
---
NEW! ARCHIVE of Past Cases! (Click here!)
---
THIS WEEK's CASES (Oldies but Goodies from 1997!):
---

> Date:          Tue, 25 Nov 1997 11:01:12 +0000
> From:          Karen 
> To:            phaedrus@ebicom.net
> Subject:       7 layer cookies

> I love your webpage.I'm always looking for something new to cook. 
> My question is, do you know the recipe for 7 layer cookies?
> I have looked and looked and no cookbook I have looked at has the
> recipe. Could you please send it to me. I have been craving them
> for weeks now! Thank you, and have a great Thanksgiving!
> 
>                                                      Sincerely,
> 
>                                                   Karen
> 
> 

Hi Karen,
Uncle Phaed is more than happy to find the recipe for you.

7-layer Cookies

Also known as ``Hello Dollies'' or ``Sweet Ass Cookies'' 

1/2 cup graham cracker crumbs
1/2 cup semi-sweet chocolate chips
1/2 cup butter-scotch chips
1/2 cup coconut
1/2 cup chopped nuts (preferably pecans or walnuts)
8 oz. can of sweetened condensed milk
1/2 stick of butter

Melt butter and pour into an 8x12 baking dish. Add graham cracker
crumbs slowly and evenly to make crust. Add the remaining ingredients
in the following order: coconut, chocolate chips, butter-scotch chips,
nuts, sweetened condensed milk. Cook 20 to 30 minutes at 350 degrees 
F. Let cool completely (usually takes 6 hours at room temperature) 
and then cut into squares. The great thing about these cookies is 
that most people hate one ingredient, or just think that they're way 
too rich. More for you!
   
---

> From:          lawrence 
> Date:          Sun, 23 Nov 1997 11:54:12 -0800
> To:            phaedrus@ebicom.net
> Subject:       bread-sprouted grain

> looking for a recipe for ezekiel bread
> 
> 

Hi Lawrence,
You can buy sprouted Ezekiel bread online: Food for Life ,and below is a recipe for "Ezekiel fasting bread". It's probably not the sprouted ezekiel bread you're looking for, but it's the only one I could find...

                  Ezekiel Fasting Bread

2 1/2 cups hard red wheat
1 1/2 cups spelt or rye
1/2 cup hulled barley
1/2 cup millet
1/4 cup green lentils
2 T. great northern beans
2 T. red kidney beans
2 T. pinto beans

Stir the above ingredients very well. Grind in flour mill.

Measure into large bowl:
4 cups lukewarm water
1 cup honey
1/2 cup oil
2 T. Red Star Yeast
Set aside for 3-5 minutes to allow yeast to grow.

Add to yeast mixture:
2 t. salt
fresh milled flour from above mixture of grains

Stir until well kneaded about 10 minutes. This is a batter type bread
an will not form a smooth ball.

Pour dough into greased pans. You may use 2 large loaf pans or 3 med.
loaf pans or 2-9x13 pans. Let rise in a warm place for one hour or
until the dough is almost to the top of the pan. If it rises too much
it will over flow the pan while baking. Bake at 350 for 45-50 minutes
for loaf pans and 35-40 minutes for 9x13 pans.

For fasting, divide bread into 8 equal parts weighing 1/2 pound each.
Eat a 1/2 pound cake and drink a quart of water every day.
 
---

> From:          Jennifer
> Date:          Sat, 15 Nov 1997 18:14:27 -0500 (EST)
> To:            phaedrus@ebicom.net
> Subject:       Sweet Potato Bread Pudding

> Dear Unc,
> I have been looking for a sweet potato bread recipe.  I know there is
> one out there because my mother has made it before.  I just can't 
> find it.  I have found sweet potato pudding and bread pudding but not 
> sweet potato bread pudding.  Please help if you can!!!!              
>
>Thanks, 
>Jennifer
> 
> 

Dear Jennifer,
Try these:

SWEET POTATO  BREAD  PUDDING

 Ingredients : 
 8 slices bread
 3 eggs, slightly beaten
 1 can (16 oz.)mashed sweet potatoes or 16 oz mashed cooked sweet 
   potatoes 
 2 1/2 c. milk
 3/4 c. sugar
 1 tsp. ground cinnamon
 1/2 tsp. ground nutmeg
 1/2 tsp. vanilla extract
 3/4 c. raisins

 Preparation : 
    Preheat oven to 375 degrees.  In 2 quart casserole, crumble
 bread. Combine remaining ingredients.  Stir into bread.  Set
 casserole in larger casserole or baking dish; fill larger dish with
 hot water.  Bake 70 minutes, or until knife inserted near center
 comes out clean.  Serve warm or chilled with *stirred cream.  Makes
 approximately 8 servings.  *Stirred cream: soften 2 cups vanilla ice
 cream; stir until smooth. 

----------------------------------

 SWEET POTATO  BREAD  PUDDING

 Ingredients : 
 1 c. sugar
 2 tbsp. margarine, melted
 1 1/2 c. milk
 3/4 c. raisins
 6 slices bread, crumbled
 1/2 tsp. vanilla
 3 eggs
 1 3/4 c. mashed, cooked or canned
   sweet potatoes
 1 1/4 tsp. cinnamon
 1/2 tsp. ginger
 1/4 tsp. cloves
 1/8 tsp. nutmeg
 1 can evaporated milk
 1/2 c. chopped nuts (optional)
 Whipped topping (optional)

 Preparation : 
    Stir together sugar and margarine.  Add milk, bread and vanilla. 
 Beat in eggs. Stir in sweet potatoes, raisins and spices.  Gradually 
 stir in evaporated milk until well blended.  Pour into greased 8x12x2 
 inch pan.  Sprinkle with pecans.  Place in pan on oven rack, fill pan 
 with hot water and bake in 350 degree oven for 50 minutes. Increase
 temperature to 425 degrees and bake 10 minutes longer or until
 pudding is rich golden color and knife inserted in center comes out
 clean.  Cut in squares and serve warm or cold with topping.  12
 servings.
  
---

> From:          Niv
> To:            phaedrus@ebicom.net
> Date:          Mon, 24 Nov 1997 22:23:08 -0800

> Hi Phaedrus
> 
> My question is :
> 
> How do I make a delicious marcapain  (sweet- pure almond cookies)????
> 
> Thanks
> 
> Niv
> 
> 

Dear Niv,
Marzipan (marcepan) is actually a candy, rather than a cookie. Here's a recipe for marzipan candy:

Marzipan

Yields: 2 lbs
Time: ½ hour plus time to decorate

This recipe could be used as part of a 12 course meal known in
Polish as Wigilia, or on its own. Wigilia is eaten after sundown
on Christmas Eve.

1 lb blanched almonds, finely ground
1 lb icing sugar
2 tbsp orange water or rose water
food colouring and decorations

Combine ground almonds, sugar and flavouring in a saucepan. Cook
until mixture leaves side of pan. Roll almond mixture on a flat
surface to a ½ inch thickness. Cut into shapes, mold, paint with
food colouring, decorate, etc. Place on wax paper to dry for 2
hours.

However, we did come across a recipe called "marzipan cookies". They aren't true marzipan, they are really just almond-flavored cookies, but here's the recipe:

Marzipan Cookies

Ingredients

   * 1/2 cupmargarine
   * 1/4 cup sugar
   * 1/8 tsp almond extract
   * 1 1/4 cup all-purpose flour
   * food coloring

Instructions

  1. Cream margarine, sugar, food coloring, and almond extract. To
  achieve  desired color: 3 drops red and 2 drops yellow for 
  orange dough, 2  to 3 drops yellow  for yellow, 4 to 5 drops red 
  for red,   and 4 to 5 drops green  for  green.
  2. Stir in flour; mix thoroughly.
  3. Form into desired fruit shapes
  4. For most cookies use 2 level tsp dough to form cookies. Place
  cookies  on ungreased baking sheet.
  5. Chill 30 minutes.
  6. Heat oven to 300 degrees. Bake about 30 minutes, or until done
  but not  brown.
 
---

  > From:          Carole 
> Organization:  Hope Chapel
> To:            phaedrus@ebicom.net
> Subject:       Weird Breads

> Unc:
> 
> I work for a church, and one good-hearted woman who is in charge of
> our communion would like to cook the communion bread (unleavened ...) 
> on her own, but neither of us has been able to locate a recipe for it.
> Have you heard of one?  Also, I've looked through all of my cook-
> books for a good boboli italian bread recipe, but maybe that's just 
> a brand-name of the round, flat breads I get in the store and use for 
> pizza-crusts.  Is there such a thing as boboli, and if so, how is it 
> made?  Thanks in advance.
> 
> You know, reading through the Q&A kinds of reminds me of the Wizard of
> Oz.  :)
> 
> Thanks!
> 
> Carole
>

Hi Carole,
I found the two communion bread recipes listed below. The second one is Lutheran, the first is non-denominational (grin...) Also, at the very bottom, you will find a pseudo-boboli recipe. Actually, as you say, boboli is a registered brand of pizza bread. It derives from the Italian bread called focaccia.
Phaed
(...pay no attention to that man behind the curtain.... er...computer.... er ...THE GREAT AND POWERFUL PHAED HAS SPOKEN.......)

------------------------------------------------------
Communion Bread Recipe #1

* 4 Cups whole wheat flour
* 4 teaspoons baking powder
* 1 cup honey
* ½ cup milk
* ¼ cup (or less) cold water (only if needed)
* ¼ cup vegetable oil
* ¼ teaspoon salt

Sift together flour, baking powder and salt. Let stand. Mix
milk, honey and oil together in a separate bowl (batter does usually
does not stir easily, can use mixer). Add liquid to dry ingrediants.
Turn dough onto a lightly floured surface. Roll out to about ¼ inch
thickness. Use doughnut cutter for three inch circles or coffee can
for six inch circles. Mark with a cross and place on lightly greased
baking sheet. Bake at 400 degrees for approximately 10 minutes (watch
carefully). May be frozen in plastic bags.
---------------------------------------------
ST. PETER'S COMMUNION BREAD RECIPE

St. Peter's has a tradition of having members of the congregation make
the bread that is served at communion.  It has become a popular
ministry to involve members in the celebration of communion. One of
the other secondary attributes of the bread is that it tastes great!! 
So attached is the recipe if you would like to give it a try.

Mix: 

3 cups whole wheat flour
1 cup white flour
1 1/2 teaspoons fresh baking soda
1 1/2 teaspoons salt

Cut in:

4 rounded Tablespoons shortening

Add:

6 Tablespoons honey
1 1/4 cups water

Stir.  Kneed until smooth and elastic.  Roll into tube shape.
Slice into 8 slices.  Flatten to 3/4" rounds. Bake on cookie sheet at
350° for 10-12 minutes.

---------------------------------------------------------
Boboli Pizza Crust

Serving Size  : 2    Preparation Time :0:00
Categories    : Pizza  Italian Breads

Amount  Measure    Ingredient -- Preparation Method
------  ---------  --------------------------------
2 1/2  cups          BREAD flour
1/2    teaspoon      -Salt
3/4    teaspoon      Active dry yeast
1      cup           -Warm water
2      small         Cloves garlic -- thinly sliced
2      tablespoons   Rosemary*
3      tablespoons   Bertolli Light olive oil

Preheat oven to 400 degrees.  Combine flour, salt, yeast and water in
bowl. Blend well, turn out onto floured surface. Knead well, about 15
minutes. Place in lightly greased bowl, not buttered, cover with a
damp cloth and let rise for 1-1/2 hours (until doubled in bulk). Turn
dough out, punch down and knead for 5 minutes or so. Return to bowl
and let rise until doubled in bulk.  Punch down and turn out on
lightly floured board. Roll and press out to about 1/2 inch thickness.
This recipe makes about 1-12 inchers-so you can judge whether to
double or reduce the recipe. Rub surface of baking (cookie) sheet with
oil and transfer the dough round to the sheet.  Make several
indentations with the point of a knife in the dough and insert garlic
slices and rosemary into indentations. Rub olive oil (pour) onto
surface and gently smooth over the surface. Salt and pepper surface
LIGHTLY.  Bake 10-12 minutes or until just golden. Remove from oven
and TAKE OUT THE GARLIC SLIVERS! You can now top the crust, freeze it,
eat it the way it is, smile at it (YOU DID IT!) Remember, when you top
it the crust is alread 2/3 baked and will require only enough time so
that the cheeses, etc. are bubbly.

---
NEW! ARCHIVE of Past Cases:
Look here for previous questions.

Food Trivia Recipes History Cooking Movies Beverages TV Science Health Literature Psychology Culture

Our WEB page is always under construction, always experimental, and changes with our mood and current interests. But the basic idea has always been to answer your questions, so no matter what you may see posted here, if you have a question, write to us and we will do our best to find the answer.

The INTERNET is a tremendous storehouse of information. But finding the answer to a specific question in this sea of material is not always easy, even with all of the search engines that are available. That's where this site enters the picture. We answer questions.

What kind of questions? Anything at all. Send your questions and comments to:

Phaedrus
phaedrus@futuresouth.com
---
LINKS AND THINGS:

Our LINKS!

---
Copyright (c) 1996, 1997, 1998, 1999, 2000, 2001 Phaedrus


CountZ.com